Offices / Housing / Arts & Culture / Retail – In development
Bringing nature back into the city with 'living buildings' that sustain healthy urban ecosystems and nurture the synergy between flora, fauna and city dwellers.
Location
Beurskwartier,Utrecht, Healthy Urban Quarter
Certification
BREEAM Excellent – Offices
Architects
Stefano Boeri Architetti
MVSA Architects
Architects
Stefano Boeri (R),
Stefano Boeri Architetti
Roberto Meyer (L),
MVSA Architects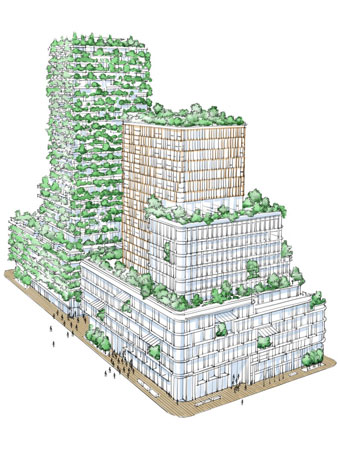 Icon for Utrecht smart city of the future
The Municipality of Utrecht has an ambitious strategy regarding sustainability, greenery and health. The Wonderwoods concept was chosen for its heartening, rich mix of living, working, leisure, culture and hospitality. A pioneering urban scenery with two hectares of trees and shrubs in and around two future-proof towers. A wonderfully inspirational new habitat that will allow urban crowds to cohabit harmoniously with nature.
Happiness 2.0 – A holistic approach to urban and architectural design integrating sustainability and healthy lifestyle.
Living, working, spending time in and around Wonderwoods will be like taking a bath in nature. Wonderwoods is much more than an awe-inspiring architectural concept. It's the promise to reconnect people with natural environments, urban ecosystems with healthy lifestyles and the future with happiness and opportunities. Both towers – singular in their design, yet forming a cohesive whole – were inspired by the relationship between nature and technology. Tower I, a creation of Stefano Boeri, inspired by his acclaimed Vertical Forest, is fully covered in trees and naturally introvert while Tower II, imagined by Dutch architect Roberto Meyer, has an extrovert character, open to the world, with its interior greenery reaching out to nature outdoors. Technologically advanced the buildings register and react directly to their users to reduce their ecological footprint.
Wonderwoods is a manifesto – by radically changing the conventional urban architecture paradigm and reconnecting people with nature, we can transform a society's attitude and accelerate progress towards sustainability, high quality environment and positive societal impact.
A sustainable mixed urban fabric
The rich mixture of commercial, residential and public applications gives substance to Wonderwoods: about 300 homes, the cultural Nowhere function, green offices, healthy catering, fitness and yoga, small-scale shops and education. All fully integrated and verified proof of concept.
'As we see it, Wonderwoods will be an icon for the city of Utrecht and a worldwide source of inspiration for a newfound balance between nature and urban life.'
Related