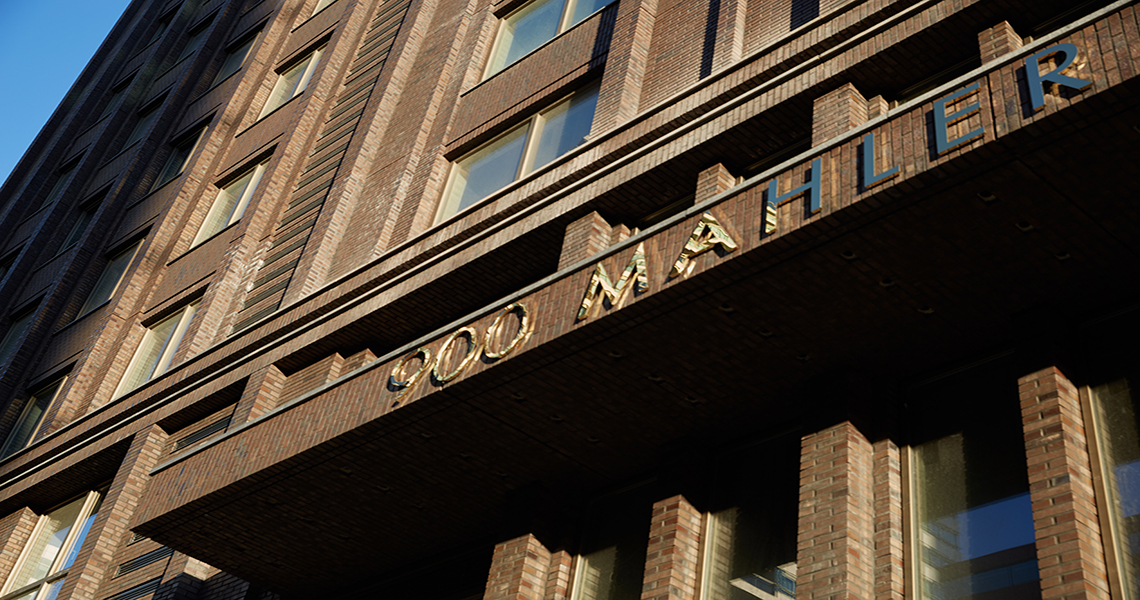 Housing – Developed 2016
Inspired by New York architecture. 900 Mahler brings a sense of Manhatten to Amsterdam. Our first major achievement in the housing market resulting in a well-known luxurious residential building offering apartments and penthouses.
SQ.M
Housing: 22.000 sq.m
Retail:
1.100 sq.m
Architect
Rick Bakker, INBO (L)
Kate Hume (R)
Location
900 Mahler has played an important role in the transformation of the Zuidas by both literally and figuratively sticking its neck out. Many more residential buildings have followed. The Zuidas is now perceived as a vibrant destination to work and live.
A view a few will share
High windows, brown bricks all the way down and a beautiful brass signage. 900 Mahler consist of a higher and a lower tower offering beautiful homes and various public functions in the plinth. Glass elevators are attached to the façade ensuring a spectacular view over the city. Not to mentioned the spacious terraces that are not only comfortable but also contribute to the residential character of the building.
A grand lobby
Inspired by the Manhattan skyline- with a nod to Holland's iconic mid century architect Dudok. Kate Hume made sure the outside quality of 900 Mahler was aso reflected on the inside in the grand lobby. Eye-catching chandeliers by Kaia and Atollo table lamps by Oluce give the warm welcoming feel of a five-star hotel lobby. With JAMES (concierge service) making residents feel right at home.
An avenue with allure
The Gustav Mahlerlaan an avenue with allure. 900 Mahler offers various amenities that are also open to the public such as various restaurants, a luxurious gym and cafe corner.












Related