Offices – Developed 2017
Architects
van Wageningen Architectes
Location
On the corner of Beethovenstraat and De Boelelaan G&S Vastgoed developed the smallest building. But that's not to say it is overpowered by the skyscrapers crowding all around. On the contrary, its elegant, spare design makes 500 Beethovenstraat stand out instantly.
500 Beethovenstraat is the big brother of the six Gershwin Townhouses, which are built with the same kind of stone.
Bringing Prinos to the Zuidas
The white natural stone of the façade is one of a kind, and is mined exclusively on the Greek island of Prinos.
The interior
With its expanse of windows, entrance awning and large foyer, it immediately catches the eye, making the impression of a big-city building. Up close, it's clear that much attention has gone into the details. On the exterior, 500 Beethovenstraat is a subtle blend of glass, chrome and white stone. The angled façade recedes to cleave a deep balcony towards the building's western tip, creating loggias that are easily accessible from the offices and giving building occupants an abundance of outdoor space. This feature alone makes 500 Beethovenstraat into a unique office environment.
.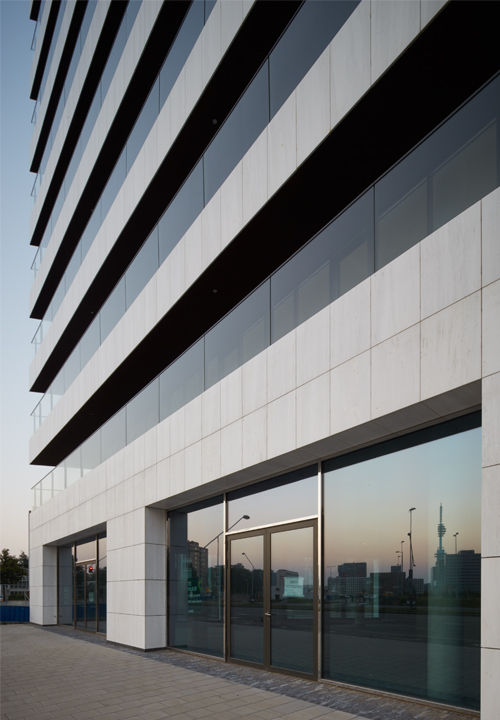 Small but beautiful
Additional bonuses for tenants are the underground car park and a garden to enjoy in fine weather – a little pocket park tucked away in the building. With its pared down architectural volume and interesting features, 500 Beethovenstraat proves that, when it comes to standing out in Zuidas, small is beautiful.
Related